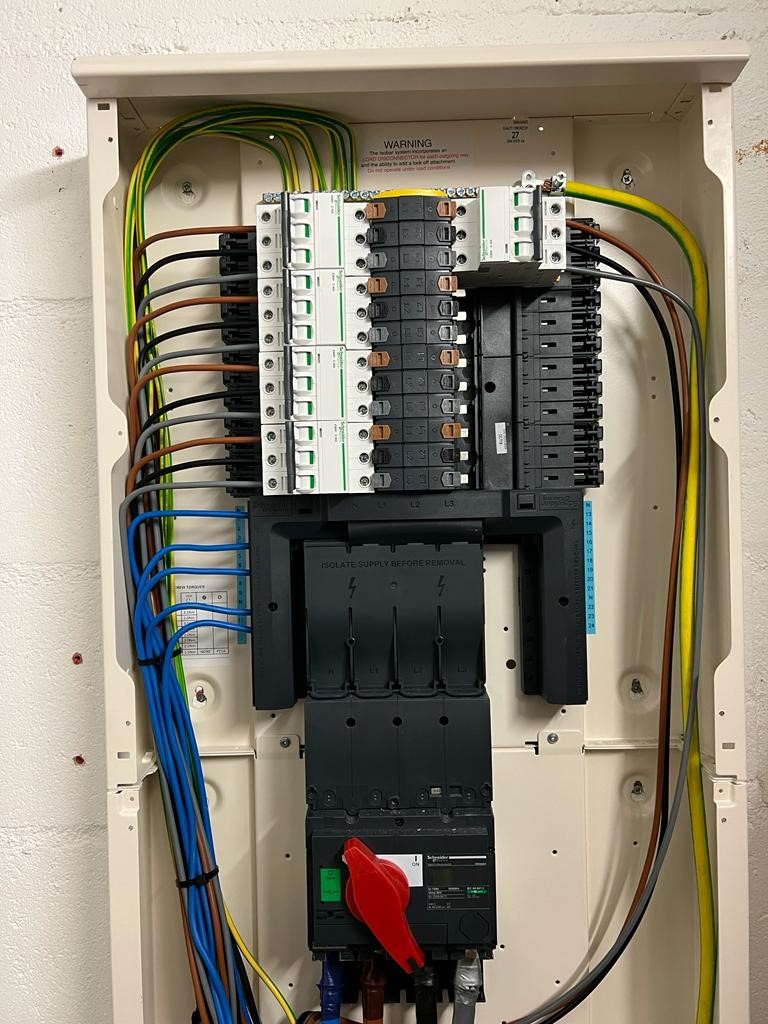 Clearwater Electrical recently supplied and installed 10x Column Mounted 3 Phase 415V 22.5kw EV Charging Robots to an Oil & Gas Operator's head offices in Aberdeen.
For this installation, we chose the Easee Charge model.  This was the maximum the building infrastructure could support without significant works to the site substation.
It has never been easier to charge in commercial buildings and workplaces. With dynamic load balancing, Easee utilises all available electrical capacity in commercial buildings. The Charging Robot distributes the available current automatically between units – so both employees and visitors can charge in a smart and safe way.
Easee enables load balancing of up to 101 Charging Robots on a single circuit. It can operate both online and offline.
The Charging Robots are updated with new features continuously. It detects and fixes any problems, and also carries out proactive maintenance.
Easee Charging Robot has a Type 2 charging switch, which charges both 1- and 3-phase. It supports charging up to 22 kW, and you can easily connect several chargers in series if needed.
The Charging Robot weighs only 1.5 kg. This means that you save the environment at least 4 kg of copper and plastic per produced charger.
Fully dynamic charging power 1.4–22kW (1 and 3 phase charging)
Reduces capacity requirements by up to 90%.
Load balancing of up to 101 chargers per fuse
Automatic queuing system
The load and phase balancing works offline
WiFi connectivity
Built-in eSIM (LTE CAT M1 / GSM). If you buy now, you get a subscription included for life (assuming there is coverage)
Permanent locking of the Type 2 cable
Integrated earth fault protection (RCD protection (AC 30mA / DC 6mA))
Integrated RFID reader (NFC / ISO 14443 and MiFare Classic)
Supports whitelisting of RFID tags, approved tags are automatically stored locally in each Charging Robot
Energy measurement (+/- 3%) for reading charging consumption
Developed and manufactured in Norway
The box is smaller than most other solutions and weighs only 1.5 kg
3 year warranty from the day the charger is installed
Universal, fits all types of electric cars and power supplies
Manual and digital control (free Easee app)
You choose the colour
Managing the charging system could not be easier with the aid of the Easee Portal.
If you manage a larger charging system, you know that this can be time-consuming and confusing. The Easee Portal contains all the most important functions you need and provides a full overview and control of your installation. Here you can manage Charging Robots, invoice power consumption, set charging price, status of the system, etc. The Easee Portal is free of charge and is continuously being developed.
Manage one or more charging systems
Dashboard with status for the entire facility
Full control of every single Charging Robot
Keep track of each individual's power consumption by registering their charging with an Easee Key (RFID tag) or through the app.
Set charging price and invoice power consumption
Provide access and determine roles
Users can manage their personal account, manage their Easee Keys and access personal consumption
Generate consumption reports and exports as PDF, Worksheet or CSV + much more…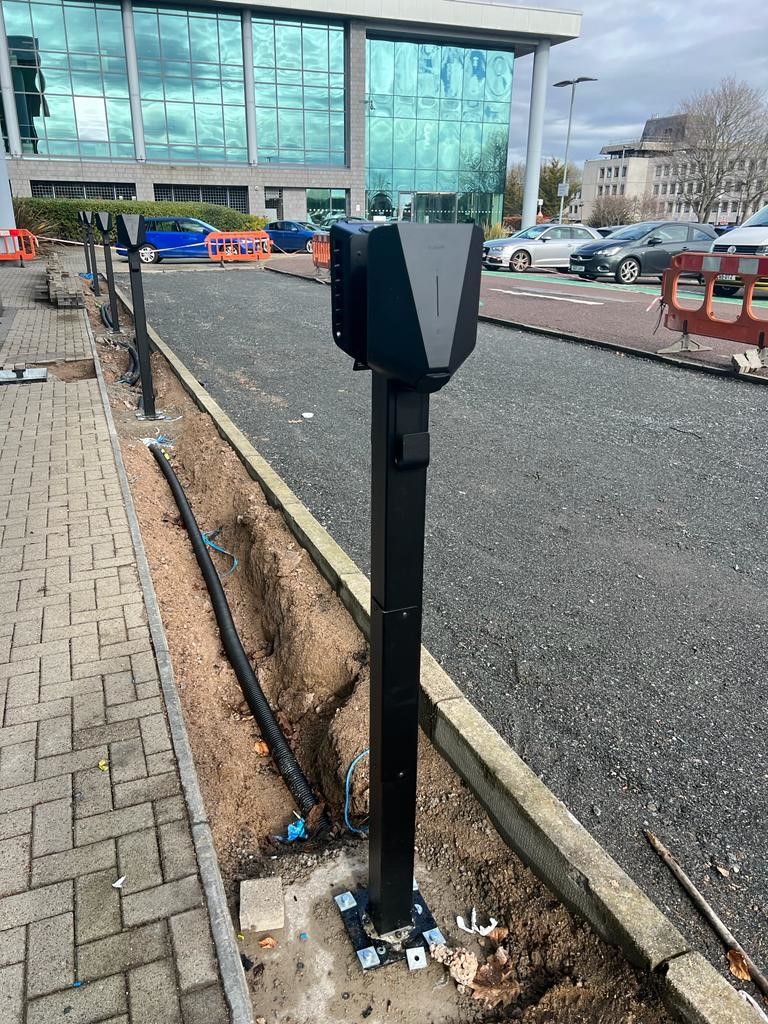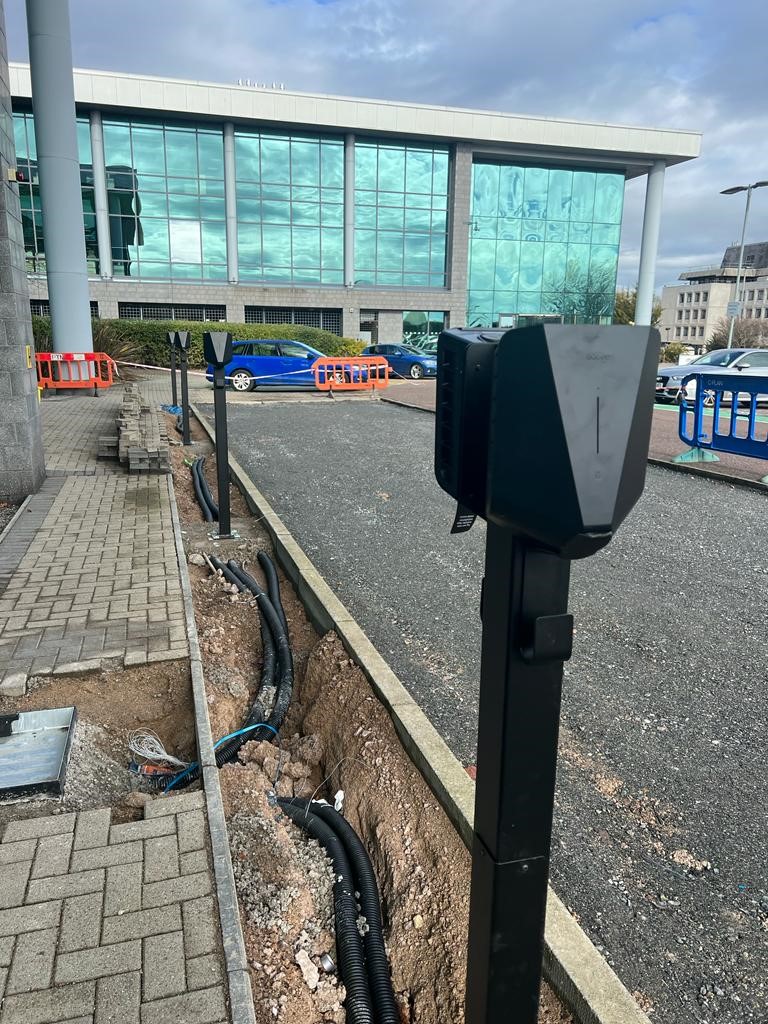 This client was pleased with the installation and held a launch event inviting Tesla Aberdeen along, giving colleagues an opportunity to test drive their range and were on hand to answer any questions and provide support to their staff regarding usage.  What a great way to reduce your carbon emissions and promote awareness.
If you have any questions or need a job quoted, please get in touch – info@clearwaterelectrical.com
Liked this post? Why not share it?